Enjoy a treatment that Chinese noblewomen of the Song Dynasty used a thousand years ago to keep their skin toned, smooth, and firm. Today, acupuncture facials are a virtually painless, non-surgical alternative to plastic surgery, Botox, and collagen injections. Acupuncture and herbs not only rejuvenate the skin, they correct the underlying imbalances that cause imperfections and prevent them from reoccurring. This full body treatment and facial is designed to boost collagen production to diminish fine lines, brighten the eyes, oxygenate the skin, and clarify acne. Other modalities that may be incorporated into the treatment are facial cupping and gua sha.
A series of ten sessions is recommended, one to two times per week for optimal results.
NANONEEDLING
Nano-needling exfoliates the skin to refresh a dull complexion and can target the sensitive areas around the eyes and lips that are difficult to reach with other modalities. Using a gentle oscillating pen that helps infuse natural topical serums into the deeper layers of the skin, Nano-needling increases product absorption by 97%, during and post treatment. A powerfully nourishing serum with Apple Stem cells is used to regenerate the stem cells of the skin to boost elastin, increase collagen production, and oxygenate the skin, giving you a radiant glow.
Nano-needling is maximized when combined with the LED treatment to boost the production of collagen and elastin. It also lifts, sculpts, and tightens the skin to reduce the appearance of fine lines, improves acne scarring, and pigmentation.
| | |
| --- | --- |
| | |
| Acupuncture Facial with LED Phototherapy | |
| Acupuncture Facial with LED Phototherapy & Infrared Chakra Mat | |
| Acupuncture Facial with Nanoneedling | |
| Acupuncture Facial, Nanoneedling & LED Phototherapy | |
| Acupuncture Facial, Nanoneedling, LED Phototherapy & Infrared Chakra Mat | |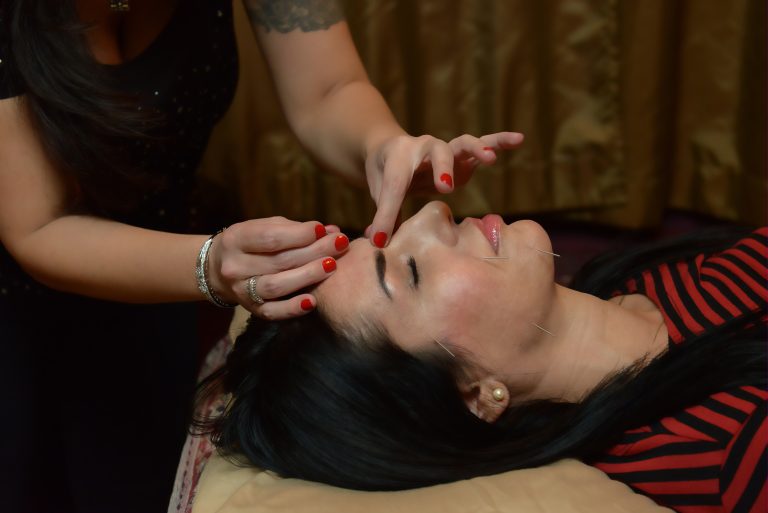 MICRONEEDLING (Collagen Induction Therapy)
Regain your youthful glow! Microneedling is a minimally invasive treatment that works by creating microchannels in the skin to promote the skin's ability to grow new collagen and elastin. It effectively decreases fine lines, wrinkles, acne scars, and age spots; improves the skin's texture and color; and dramatically enhances the effectiveness of skin care products, increasing product absorption by 1000%. Visible results begin on the first day and continue for weeks afterward. As collagen levels continue to build up, your skin becomes more luminous and your complexion more even.
Your acupuncturist is uniquely qualified to perform Microneedling due to their in-depth knowledge of Chinese Medicine. Combining this ancient medicine with modern technology enhances health and beauty from the inside out. Body acupuncture addresses the internal causes of aging and organ imbalances, which often appear on the face. Relaxing, restorative acupuncture treatments can be combined with microneedling, drastically enhancing the effects.
Before Treatment: If desired, topical anesthetic is applied before treatment to provide light numbing.
Gentle Treatment: Physician formulated, organic, vegan serums prepared for your skin's individual needs will be applied. The AcuLift™ MicroPen is then used to create controlled microchannels, eliciting your body's healing response. This will remodel and rejuvenate your skin to provide a younger, more firm and radiant appearance.
Post Treatment: Following treatment, your skin may appear pink or slightly red, similar to a mild sunburn. This typically disappears after 12-24 hours.
Results: The results are sometimes apparent after one treatment and will improve over a series of 3 to 6 monthly treatments. Results will continue to progress for several months after your last treatment and can last up to 5 years!
A series of 4 to 6 treatments is recommended, only one time per month.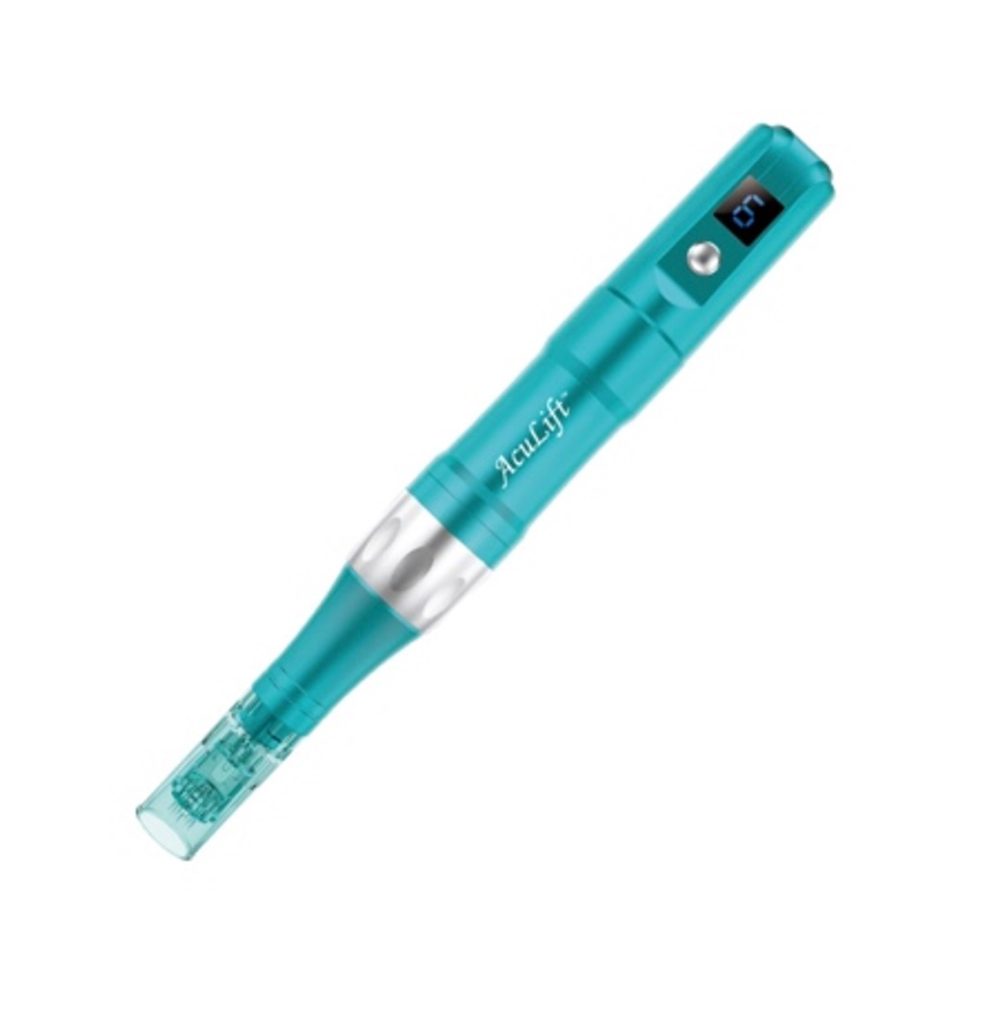 AcuMicro Topical Serums:
Hyaluronic Acid: Base for all topical formulas. It is found naturally in the skin and holds water, helping keep the skin hydrated and plump. The molecule holds a thousand times its weight in water to not only retain moisture in the skin but also to prevent the moisture from evaporating in the air.
ApStem (Apple Stem Cells + Ping Guo): Promotes the reproduction of facial cells under the epidermis.
CollagenXG (Collagen + Xiang Gu- Shitake Mushroom): Natural collagen and elastin builder.
Senescence65 + TMD (Tian Men Dong- Asparagus): Helps cells regain their ability to grow and divide. Best for mature older skin.
Rujuv Xue Cao (Ji Xue Cao- Gotu Kola): Helps speed up the facial repair process after Microneedling. Used to support faster healing of scratches, small wounds, and superficial burns, as well an anti-inflammatory for insect bites, minor itching, and eczema.
ElastinFL (Elastin + Fu Ling): Natural collagen and elastin builder. Best for acne prone greasy skin and older thinning skin.
Oculus Infraorbital (Hai Zao- Sea Algae): Helps clear bilirubin and fluid buildup around the eyes. Removes eye bags, dark circles, and puffiness.
Lumos Brighten (Hai Zao- Sea Algae): Clears melanin pigmentation from the skin. Removes age spots and melasma.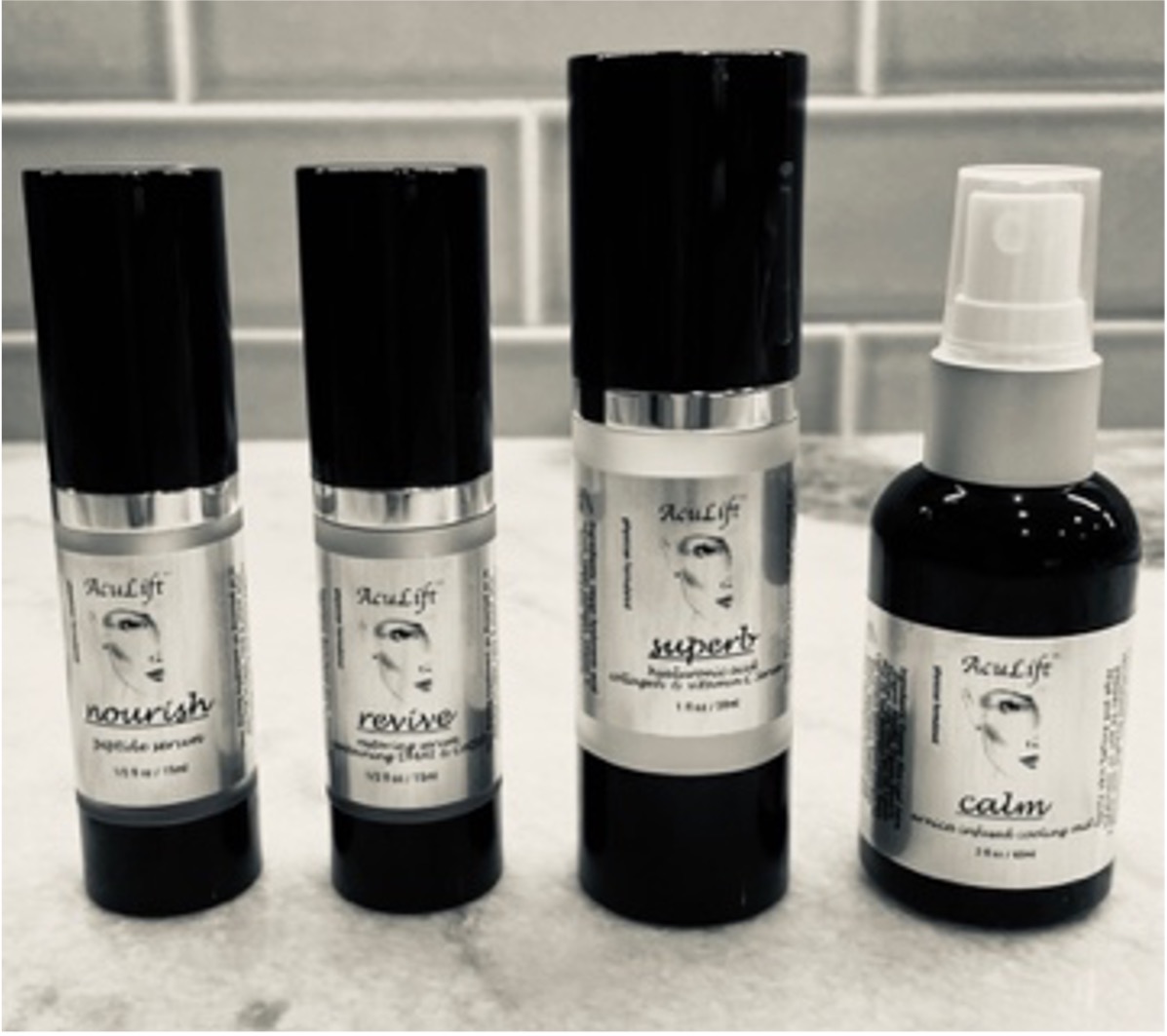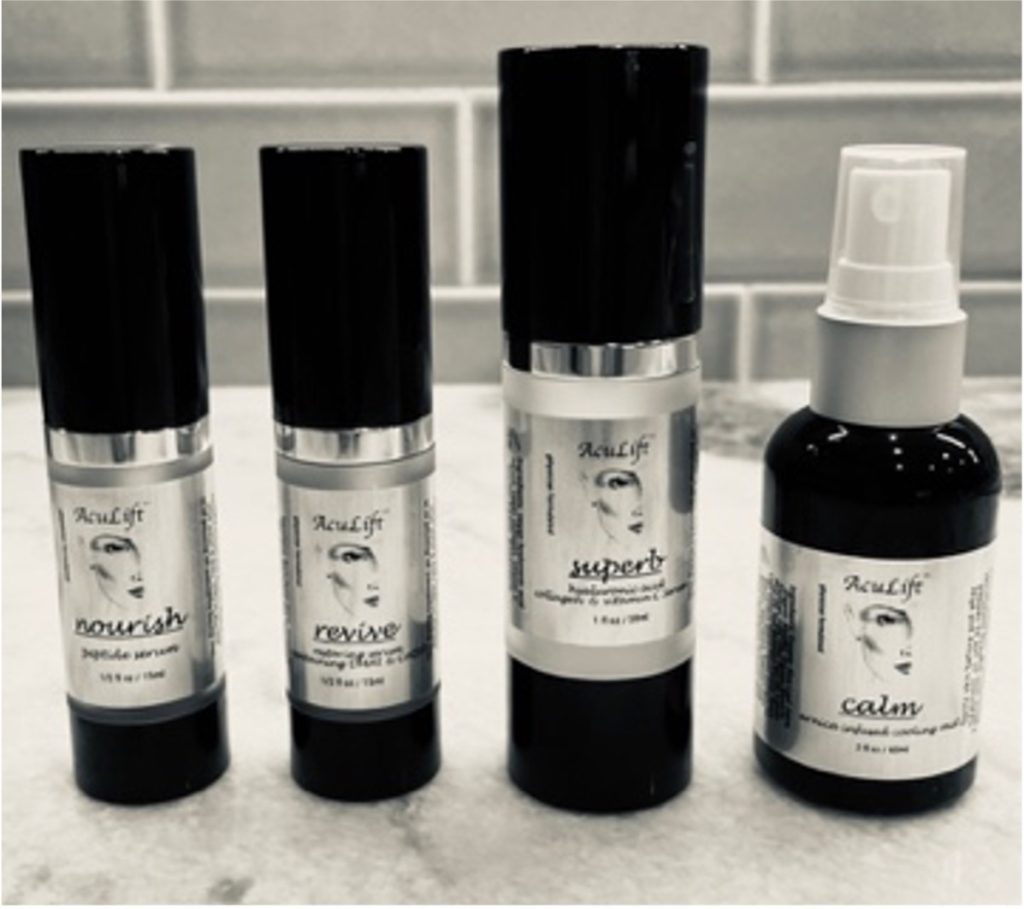 4 Microneedling Sessions with LED Phototherapy

6 Microneedling Sessions with LED Phototherapy

Trial Package (2 months)
2 Acupuncture Facials with Nanoneedling
2 Microneedling Sessions with LED Phototherapy

4 Month Makeover: Anti-Aging Package (4 months)
4 Acupuncture Facials
4 Acupuncture Facials with Nanoneedling
4 Microneedling Sessions with LED Phototherapy
Includes 4 Free Infrared Chakra Mat add-ons
Includes AcuLift™ skin care products for home use

$2450 or $625/m
(Reg. $3055)

Acne Treatment Package (6 months)
12 Acupuncture Facials
6 Microneedling Sessions with LED Phototherapy
Includes 6 Free Infrared Chakra Mat add-ons
Includes Herbal Formula for Acne

$3250 or $550/m
(Reg. $4155)

Hair Growth Package (6 months)
12 Acupuncture Sessions
8 Scalp Microneedling Sessions with LED Phototherapy
Includes 8 Free Infrared Chakra Mat add-ons
Includes organic topical hair formula

$3550 or $600/m
(Reg. $4350)