Services: Avatar & Theta Healing®, Holistic Therapy, Shamanic Healing, Despacho Ceremony, Bands of Power Rites, Bach Flower Consultation
"Auristela is a sister, friend, and revealer of truth. She's firm and direct with what needs to change and how to change it. Numerous times she has helped me to overcome adversities. I have counted on her knowledge and wisdom for decades. Auri is a gift." – Maria Sutton, President of MARS (My Aircraft Reporting System)
---
AVATAR & THETA HEALING®
Auri's genius lies in combining the myriad techniques she has acquired over the last 40 years as a psychotherapist and healer to create a deeply transformative session. The Avatar & Theta Healing® incorporates intensive practices such as shamanic chakra clearing, a walk of attunement, where you leave behind all that is no longer serving you, and forgiveness of self and others in higher planes of consciousness. With Theta Healing®, restrictive beliefs are cleared from four levels- Core, DNA, Historic, and Soul- removing the beliefs from their roots. Scientists have discovered that the Theta brain frequency alleviates stress, reduces anxiety and promotes euphoria, facilitates deep relaxation, reduces pain, and provides access to instant healings.
It is now widely accepted that our thoughts create our reality. Auri has mastered the art of finding the root of an issue and zeroing in on the underlying restrictive beliefs, allowing you to resolve the deepest limiting creations that have been causing negativity to manifest and repeat itself. As our worldview is made up of beliefs that we see as truth, this healing helps transform negative thought patterns or beliefs, thus empowering you to recreate your life exactly as you choose. It is a must for achieving personal freedom, manifesting your dreams, unlocking your creativity and creating abundance, and stepping into your best self.
Avatar & Theta Healing®: $200 (60 min video session)
---
HOLISTIC THERAPY
Auri offers private, couples, family, and group therapy. The modalities she uses include past lives therapy, flower therapy, life coaching, and emotional discharge to improve self esteem, solve death issues, overcome addictive behaviors, panic attacks and depression, as well as healing conflicting personal or work relationships. To secure success, she also may incorporate lower brain waves, guided meditation, mantras, or any other appropriate reinforcement.
Auri also employs Psychodynamic Techniques, studying how the programming of the subconscious mind affects the ten most important areas of her clients' lives. These procedures serve to diagnose what happened in the first seven years of life and how the mind interpreted such events, creating both positive and restrictive beliefs. The aim of the study is to observe the replication of these beliefs every seven years. This process is done over three sessions, with the last session spent analyzing the results of the study and suggesting future changes of beliefs and life patterns.
Holistic Therapy: $200 (60 min video session)
---
SHAMANIC HEALING
Auri provides ancient Inca Shamanic Healing modalities including:
Diagnosis of heavy energies in the chakra system of the luminous body due to traumas or improper discharge of heavy emotions
Illuminations- ancient Inca healing to bring balance to the luminous body and infuse the luminous body with light
Testing for intrusive energies and entities and lovingly removing them
Soul Retrievals
Sand paintings- ancient mandalas made with the purpose of centering the healing necessary
Ancient Despachos- a healing ceremony of the Incas used for various purposes such as launching a business, welcoming a relationship or a new family member, or just to honor the abundance of Mother Earth
Sacred Space and Sacred Fires to let go of the past
Cutting energy chords, energetic clearings, and auric cleansings
Shamanic healing of businesses to clear negativity and unhealthy financial attitudes, assessment of emotional environment and relationships among employers and employees to help achieve business goals
Shamanic Healings: $200 (60 min video session)
BANDS OF POWER RITES
The Bands of Power Rites are a beautiful shamanic ritual for auric protection and energetic empowerment. Using chumpistones that have been blessed through ceremonies in the 12 sacred mountains of Peru, the Bands of Power connect your luminous field with the pure light energy of the earth, water, sun, moon, and spirit. Once installed in your luminous field, these bands forevermore act as a filter, purifying any negative energy that comes your way and transforming it into light.
Bands of Power Rites: $100 (30 min)
---
BACH FLOWER CONSULTATION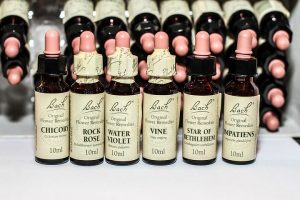 Developed in the 1930's by Dr. Edward Bach, a doctor of traditional and homeopathic medicine, Bach® Flower Essences are a safe and effective way to dispel negative emotions and encourage a connection to High Self. It was Dr. Bach's belief that disharmony within oneself was the root cause of disease. The flower essences thus work specifically on the emotional and spiritual conditions of the individual.
The 38 Essences can be divided into seven groups, each group dealing with a different emotional quality: Fear, Uncertainty, Insufficient Interest, Loneliness, Oversensitivity, Despondency or Despair, and Overcare for others.  There are 38 Essences for specific emotional and mental states, plus the Rescue Remedy, a composite of 5 remedies designed for emergencies.
The Essences do not interfere with any forms of medical intervention and can be taken in addition to all other forms of treatment, helping with both physical and emotional challenges. Many of us go through times of difficulty and fatigue when negativity creeps in; at these times the Essences are invaluable in restoring balance before physical symptoms appear.
"Health is our heritage, our right. It is the complete and full union between soul, mind and body; and this is not a difficult far-away ideal to attain, but one so easy and natural that many of us have overlooked it." -Dr. Edward Bach, MD
Bach Flower Consultation: $65 (30 min video session)